Wine tasting along the Rhine River:
| | |
| --- | --- |
| Germany, Rhine River Valley, Mainz, Rudesheim, Bacharach, Lorelei Rock, Koblenz Nonsmoking Canopy bed holiday apartment Hermann, ask for Last Minute Offers Central quiet location in Oberwesel on the Rhine river. Renovated in 2015, 55 sqm. Bedroom with historic four-poster bed and satellite TV, living room with sofa bed and satellite TV, kitchen, free Wi-Fi, balcony, terrace. Car parking. 4 boat landing stages. 630 meters from castle Schonburg. Favorable permanent rental price from Nov. to March. | |
++
Rhine river cruises: Click here for one of the best Rhine River guides in the internet:
Rhine River boat castle cruises and half day cruises
| | |
| --- | --- |
| Rhine River day boat cruise near Koblenz / Coblence: Shipping Company Merkelbach, Rhine and Moselle Rivers river between Coblence / Koblenz, "Deutsches Eck" ("German corner"), Moselle River, fortress Ehrenbreitstein, Lahnstein, castle Stolzenfels, castle Lahneck, Rhens, Konigsstuhl, Braubach, castle Marksburg and return. | |
| Rhine River day boat cruise from Boppard to Lorelei Rock: Loreley-Linie Rhine River day and half day cruises daily line passenger trips between Boppard, Kamp-Bornhofen, castle Liebenstein, castle Sterrenberg, Bad Salzig, castle Maus (mouse), St. Goarshausen, castle Katz (cat), St. Goar, fortress Rheinfels and Lorelei rock. | |
+++
Hiking walking tours along the Rhine River

Bicycle tours along the Rhine River

Train tours along the Rhine River
| | |
| --- | --- |
| Rhine River cruises to visit German wine festivals in 2021 and 2022 Rhine River Lights firework displays with half day round boat cruises A spectacular firework display during a boat trip in the Middle Rhine River Valley between Koblenz / Coblence, Lahnstein, Boppard, St. Goar, Loreley Rock, Oberwesel, Bacharach, Assmannshausen, Bingen and Rudesheim. The boat cruise with DJ music and dance on board is starting from different wine towns with wine hikings and wine festivals. | |
+
.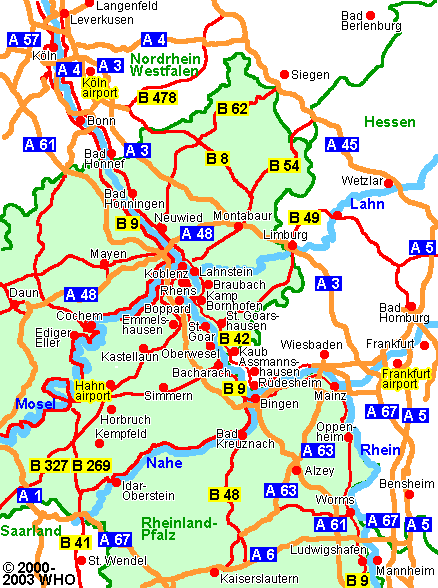 ---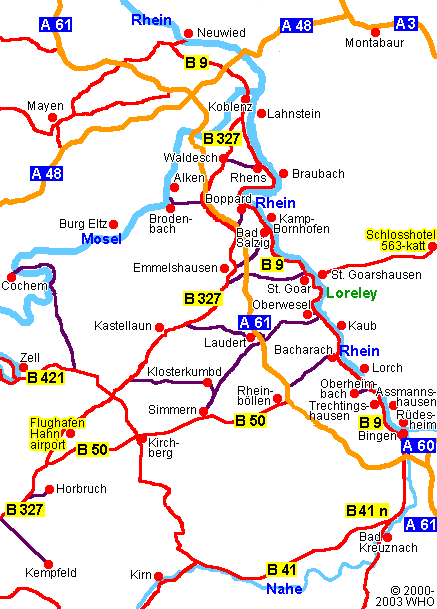 Airport distances
Bingen –>airport Frankfurt 57 km
Bingen –> airport Köln / 163 km
Oberheimbach –>airport Frankfurt 74 km
Oberheimbach –>airport Koln / Cologne 153 km
Bacharach –> airport Frankfurt 74 km
Bacharach –> airport Koln / Cologne 144 km
Oberwesel –> airport Frankfurt 81 km
Oberwesel –> airport Koln / Cologne 140 km
St. Goar –> airport Frankfurt 92 km
St. Goar –> airport Koln / Cologne 131 km
Boppard –> airport Frankfurt 116 km
Boppard –> airport Koln / Cologne 119 km
Rhens –> airport Frankfurt 120 km
Rhens –> airport Koln / Cologne 118 km
Koblenz / Coblence –> airport Frankfurt 128 km
Koblenz / Coblence –> airport Koln / Cologne 110 km
Koblenz –> airport Koln / Cologne 115 km

Rudesheim –> airport Frankfurt 55 km
Rudesheim –> airport Koln / Cologne 189 km
Rudesheim-Assmannshausen –> airport Frankfurt 61 km
Rudesheim-Assmannshausen –> airport Koln / Cologne 183 km
Kamp-Bornhofen –> airport Frankfurt 97 km
Kamp-Bornhofen –> airport Koln / Cologne 128 km.

Planning a Rhine river cruise and want to see the most castles along the Rhine in one or two days?
Start in Boppard or Rudesheim on the Rhine ...

Rhine river valley Hotel Pictures between Cologne and Frankfurt www.rhine-hotel-hotels.com
Request more information from Central Rhine Hotel Info via one single form

Apartment Listings Germany - 47 holiday flats, holiday houses, vacation and travel apartments, rentals, lodging, accomodation, holiday villa, holiday home apartment-listings.com
Request more information on various holiday flats via one single form

German Tourism: Map of Germany

Rhine River Cruises, Germany, between Cologne, Frankfurt and Heidelberg vacation-package.net

Romantic german Hotels near different Medieval Castles and Castle Ruins in Germany german-romantic-hotels.com Request more information on various german romantic Hotels via one single form

100 Medieval Castles in Germany: germany-castles-hotels.com Request more information on various german Castle Hotels via 3 different forms

NEW:

castle hotels in Bavaria, Hesse, Saxony and near Heidelberg: www.germany-castles.net

NEW: Individual round castle tour through south Germany

NEW: A map with many castle hotels in Germany: www.airline-reservation.com/airport-map-germany

Canopy beds in Germany | Knight's meal in Germany

Vacation packages for Christmas and New year's eve: Romantic Hotels, Castles, Apartments, Holiday Flats, Bed & Breakfast, New year's fireworks

Available hotel rooms and apartments for Christmas, New Year's eve, New Year

Just married? Getting married soon? Looking for the ideal romantic honeymoon destination? Spend a dream honeymoon in the most romantic locations in Germany!

Planning a Rhine river cruise and want to see the most castles along the Rhine river in one or two days?
Start in Boppard or Rudesheim on the Rhine river ...

Rhine river cruise firework display pictures Rhine in Flames schedule, Rhine Aflame, Flaming Moselle gorge, Germany Koln Cologne fireworks cruises picture rivers wine fire german festival festivals boat photos 2020 2021 Rhein in flame Koblenz displays travel agent water show fires big bridge boats information Bonn dance New Year Mainz flammen rockets shipping line company history map destination Ehrenbreitstein castle wines parade towns Oberwesel beautiful magic lights lines landscapes magic castles July August September October